There's so much to consider with every Facebook Ads Campaign. People often talk about how much you should spend, when you should run the ads or what your bid strategy should be. But what about placement? Where your audience see your adverts is hugely influential in the performance of the campaign.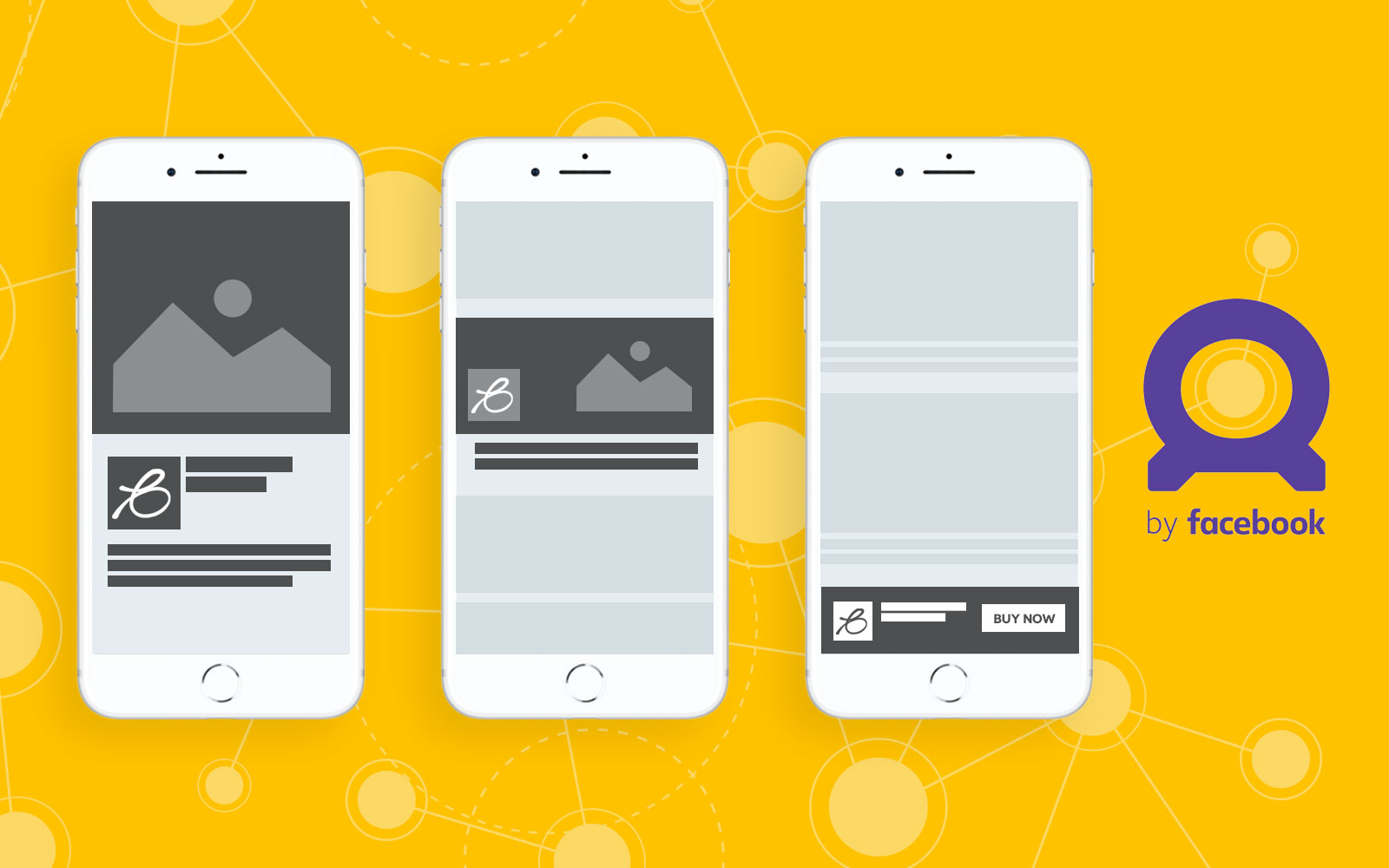 Choosing your placements is a bit like doing a jigsaw – there are different pieces and if you ask us, it's not fully complete without them all. In terms of ad placements, we get the choice of the fab four: Facebook, Instagram, Messenger and Facebook Audience Network. Or, all of them.
In the first of our Ads Placement blog series, let's talk about the audience network, as this works a little differently, and is probably the platform most marketeers are a little 'puzzled' about.
What exactly is the audience network?
Facebook launched the platform back in 2014 and essentially it is a way to extend the reach of ads beyond Facebook. In short, the audience network feeds adverts to a bunch of other apps and mobile sites, all the while using the same targeting and audiences chosen for the campaign. Although Facebook don't publish a list of the apps and sites included, what we do know is that 32% of the top 500 free apps on Google Play are used for placements. And, according to Facebook, over a billion people see an Audience Network ad each month. Pretty impressive, isn't it?
We think so. But don't just take our word for it – here's an example! We recently ran 2 ads campaigns over the same time period, using the same Objective (traffic), Audience, Budget, Bid Strategy and Ad set. The only difference was, you've guessed it… the placements! Here's what happened: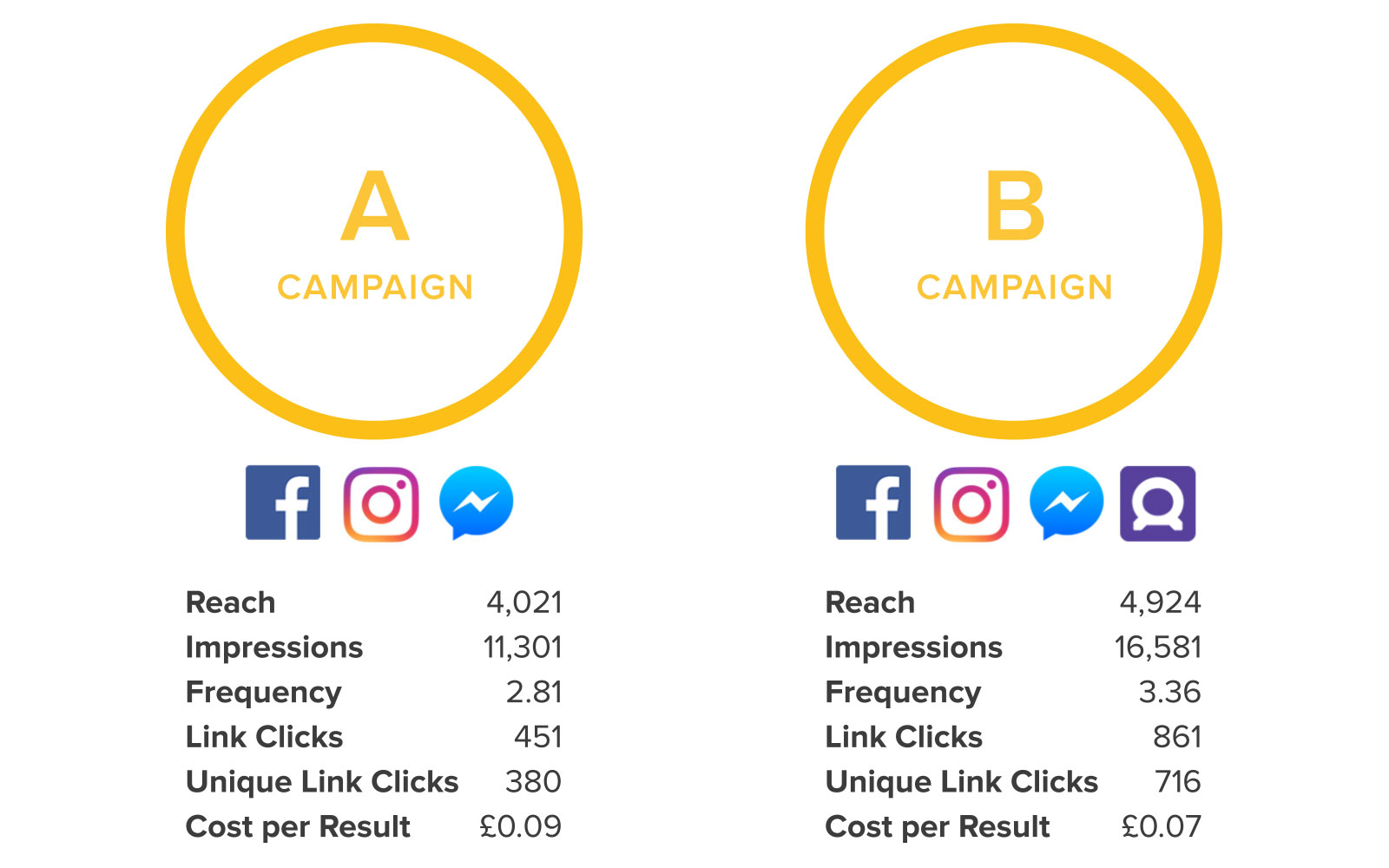 As we can see, taking the Audience Network out of the equation typically means you're left with a lower reach, fewer engagements and a higher cost per result.
So what does removing audience network placements mean for campaigns then?
For a start, the reach is likely to be lower which has a knock-on effect on arguably the most important stuff – engagements! After all, whether our objective is traffic, conversions or anything in between, we need customers or potential customers to engage with the ad as a first point of contact. So, the more ad units we can have access to, the better.
On average, 19% of a campaign's reach comes from the audience network.
Plus, it's not like the ads are shown randomly across the audience network. We still get to use our carefully crafted audiences – whether it's a custom audience for retargeting, a lookalike of your website visitors or a saved audience we've created based on the demographics, interests and behaviours of those you want to reach.
And as with all advertising, we want the most for our money and ad placements on the audience network typically cost less, meaning our cost per click is lower. And as if that's not enough, running ads across multiple platforms means that there's a good chance of increased impressions so users are seeing your ad over and over again as it follows them around their smartphone.
How do audience network placements work?
Audience network ad units are run as Banners (across the bottom of the screen), Interstitial (full screen ads) and Native (customised to blend in naturally with an app's interface) ad formats.
The ads used in your campaign are used across the compatible platforms you choose e.g. you do not have to create specific adverts for use on the audience network (or any other place for that matter!) which is great as not much more effort or time is required.  But in saying that, it's important to make sure your ads are suitable for the places you want them to be seen, so that the campaign runs how you'd like it to.
Facebook is clever – once you create your ad(s) and opt for audience network placements, the ad will only run in ad units where it will display correctly. So naturally there are some restrictions. If you want your campaigns to run across the audience network, then make sure you use Single Image, Video or Carousel format. And be mindful of your objective. Not all objectives are supported with the audience network, but the most common ones are: Reach, Traffic, App Installs, Video Views, Conversions and Catalog Sales.
Still not convinced?
A quick look back at the Facebook ads campaigns we've run for various clients in the last 6 months confirms the importance of the audience network. On average, 19% of a campaign's reach comes from there – far too big to ignore, don't you think?
If you'd like to get serious about your social, give Clare a call on 01292 280022 or email here.