Starting a conversation (literally!) with your target audience has never been easier, thanks to Facebook's advertising options for the Messenger platform.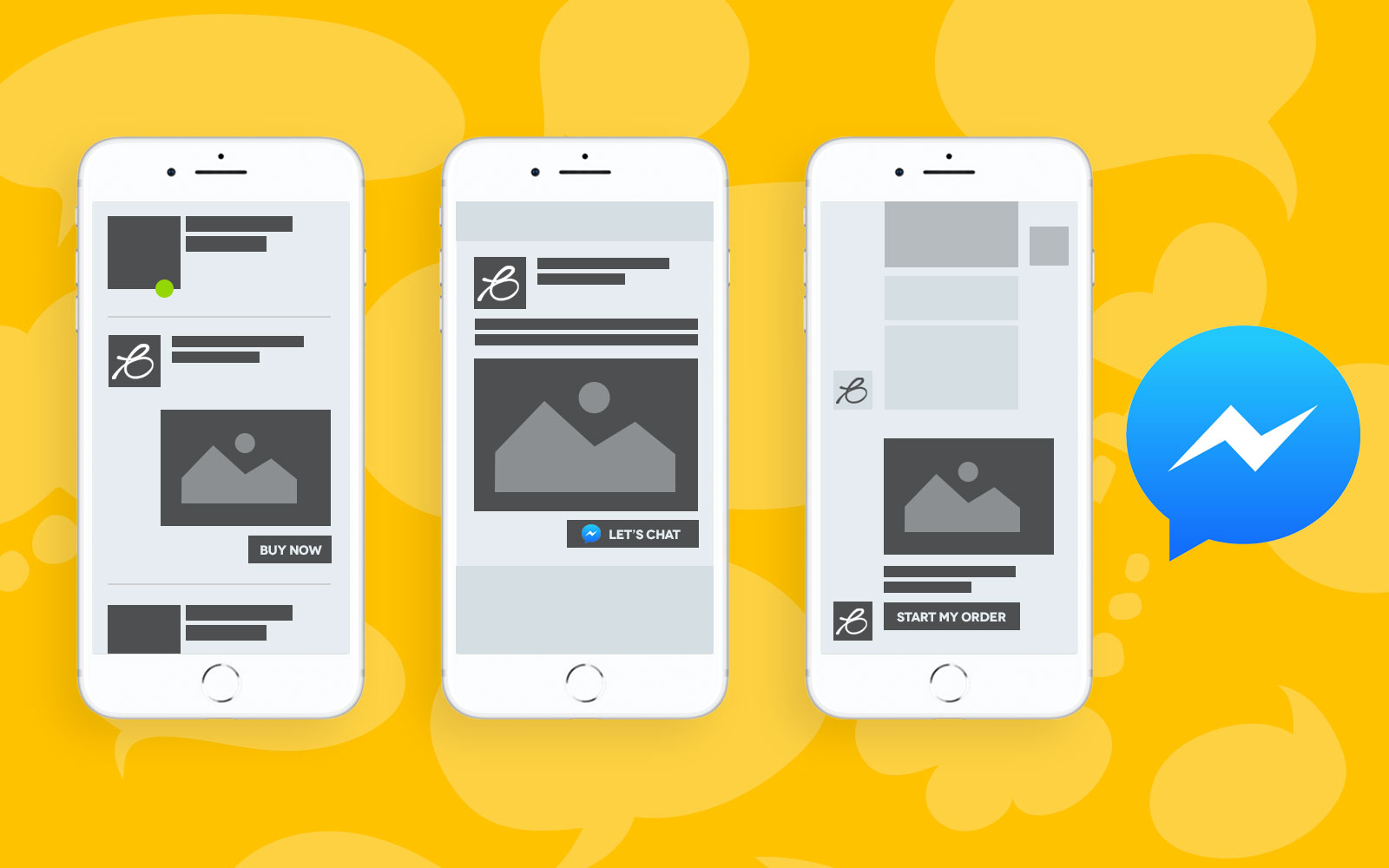 Around the world, 1.3 billion people use Messenger at least once a month, most likely to keep in touch with family & chat to their friends – we do all love a group chat, don't we?! It's predicted that by the end of 2018, 78% of us who use a smartphone will be using Messenger frequently.
But what does it mean for businesses?! Well, according to Facebook, there are already a massive 10 billion messages exchanged every month between customers & business pages. More and more, consumers are now also using the app to contact businesses as it's increasingly used as a point of contact for customer service.
The good news is that if you already have a facebook business page, you automatically have the Messenger function. There are some simple steps you should take to increase your audience interaction, for example, make sure your call to action button on your profile is set to 'Send Message' and respond as quickly as possible to incoming messages (each business Page has a Response Rate & Response Time that users can view so there's nowhere to hide!).
So, you're using Messenger for your business, but how do you get the most out of it? There are 3 options for paid-for advertising which are designed around Messenger. Let's take a look at each one in turn and how it works…
If you're more interested in starting conversations than a huge reach, then Messenger placements are for you.
Ads Placement – Messenger
This is where Ads are placed on Messenger's home screen e.g. your inbox. These appear subtly in between messages from Facebook friends, usually 4 or 5 conversations down. And once again, you can use the same creative that you're already using for Facebook & Instagram placements. When someone taps on the ad, they'll be sent to the destination you've chosen – this could be to your website or to start a conversation on Messenger with your business page.
Remember – facebook place ads where they are likely to get results for the lowest possible cost.
But is that ever Messenger placements? Well, in our experience, it depends on what your goal is. And a look back at our client campaigns over the last 6 months shows a recurring theme: reach is relatively low on Messenger inbox adverts, but the engagement rate is high.
Here's a breakdown for a recent campaign for a travel brand to demonstrate what we mean here:

Facebook have kept their word – those who were served the ads in Messenger were chosen because they are more likely to tap.
Verdict: If you're more interested in starting conversations than a huge reach, then Messenger placements are for you, but always use as part of a bigger campaign with placements across Facebook.
Click to Messenger Ads
This is where we focus heavily on the CTA, or to be more specific, the call to conversation. Running adverts across Facebook with a 'Send Message' button, that once again opens a message thread with your Page. The aim with an ad like this is to drive people interested in your product or service to Messenger to convert to sales. Automated responses can be set up to help you manage this.
We've just finished a campaign for a wedding venue where the objective was to generate sales leads via both Messenger & website enquiry form. These methods were chosen to ensure we could track the results of the campaign, using both ads reporting & pixel analytics (but more on that another day!).
Half of the 8 adverts had 'Send Message' CTAs, and the other half had 'Contact Us' buttons linking to the Enquiry Form.
For anyone who has already guessed that more results were generated from Send Message – you are correct! 72% of campaign responses were sent through Messenger.
Verdict: Most Facebook users are familiar with Messenger so it's likely they feel more comfortable taking action on your ads via message. Keep that in mind when choosing your CTA button. ASK US A QUESTION ETC.
Sponsored Messages
Sponsored messages retarget those who have already messaged your Page in the past: your ad will be delivered as a message directly into their inbox, and because you already have a conversation thread with them, it feels like a more personal connection.
Plus, this is the lowest cost option for Messenger advertising. Think about it – you are targeting a very specific audience so need less of a budget.
A small campaign we ran last week to tell a restaurant's Messenger contacts about their new menu is a great example of this. With less than 1,000 in the audience who had messaged the Page in the past, we didn't need much of a budget to reach them all, and around 50% of those who received the message responded! A fantastic figure.
This type of ad is great for news-worthy content like this – customers feel like they're being directly kept up to date and are valued.
Verdict: Sponsored messages are one of the most direct ways to target your existing fan base on Messenger and a great way to reach those who are highly likely to be interested in what you have to say. But remember you'll only reach existing customers so use alongside other Ad types for a strong reach.
So, go on, start the conversation and keep it going with Facebook Messenger! And if you'd like to talk to us too, then we'd love to hear from you! Message us on facebook here.
If you'd like to get serious about your social, give Clare a call on 01292 280022 or email here.