Social Media Marketing is a huge part of what we do here at Big Blue Dog, so we think it's essential to keep up to date with what is, or is going to be happening in the ever growing world of social media. Here are some of the Facebook & Messenger updates we can already, or can expect to see in the near future… 
Facebook Updates
Users can now post 3D content.
Facebook now supports the industry standard format glTF2.0, which allows users to view textured 3D models and images which also reflect light, giving viewers a much better, detailed look at products. You can also test this out before you post by simply selecting the 'only me' privacy setting. This could be a great way for businesses to show off their products without shoppers feeling the need to come in to the store for a closer look. This could also be a great way to prevent buyers from sending products back, here's an example of a 'Lego' model displayed using Facebook's cool new feature…
'Watch Party' allows users to view videos with friends.
Facebook Watch Party is a new feature for groups. The feature allows group admins to select videos that are already public on Facebook, then select the members of the group that they'd like to watch these videos with. Similar to the Facebook Live feature, users can post comments whilst watching these videos in their Watch Party. This could be great for businesses, as it's likely that the members of Facebook groups all have the same interest, or an interest in common at least. This could also mean that groups are more likely to share content relevant to businesses with other people that are going to be interested.
Upvotes and Downvotes on comments.
Facebook has been considering a new 'downvote' and 'upvote' feature. This will appear as two grey arrows on a comment. This is designed to push helpful and engaging comments to the top of the thread, and move negative or disrespectful comments to the bottom. Voting options will only show from pages, not friends. This could be a great benefit for business pages, as this could potentially reduce bad comments or arguments on posts, making the overall page more positive in general.
Facebook Dating Section.
Later this year, we can expect to see a new set of dating features on Facebook. This feature will enable us to create a dating profile similar to the world's most popular dating app, Tinder. You'll be matched according to a whole range of preferences such as, age, location, things in common and also, mutual friends. Your profile will not be shown to anyone that doesn't also use the dating feature. If it's a match, you can then chat with the other person through a separate inbox from Messenger. Many users have already met their loved one through Facebook, so this dating feature could be a more structured way for singles to meet their perfect match. What could this mean for Tinder?
Crisis Response Hub update.
Facebook first launched the Crisis Response Hub in 2017. The feature is a central hub for Facebook's safety tools, enabling users to let their friends and family know that they're safe during natural disasters and life threatening incidents, and also raise funds in aid of the disaster. This year, people can now share updates of their experience, as well as pictures and videos of the incident.
Messenger Updates
Messenger Translate
Starting with Spanish to English and vice-versa, Facebook Messenger plans to remove all language barriers by beginning to automatically translate messages as you chat with people from all over the world. This will begin as a marketplace feature, eventually expanding to a general Messenger one. Facebook said "This will help drive commerce between buyers and sellers despite language barriers".
AR for Messenger.
Facebook has released a cool new AR (Augmented Reality) feature for brands to enable users to view and even try on their products via messenger. So far, Sephora, Nike, Kia, and ASUS have signed on as early partners. I'll now give a quick guide on how to use this cool new feature…
Go to page of the brand who's products you'd like to try, and select 'Message' as normal. This screen will pop up relevant to your chosen brand, you must then select 'Get Started'.

You'll now have the option to select 'Try on Looks'.

This will then direct you to your camera via messenger. Similar to the general camera including Messenger filters, you can now select the look or product you'd like to view or try on.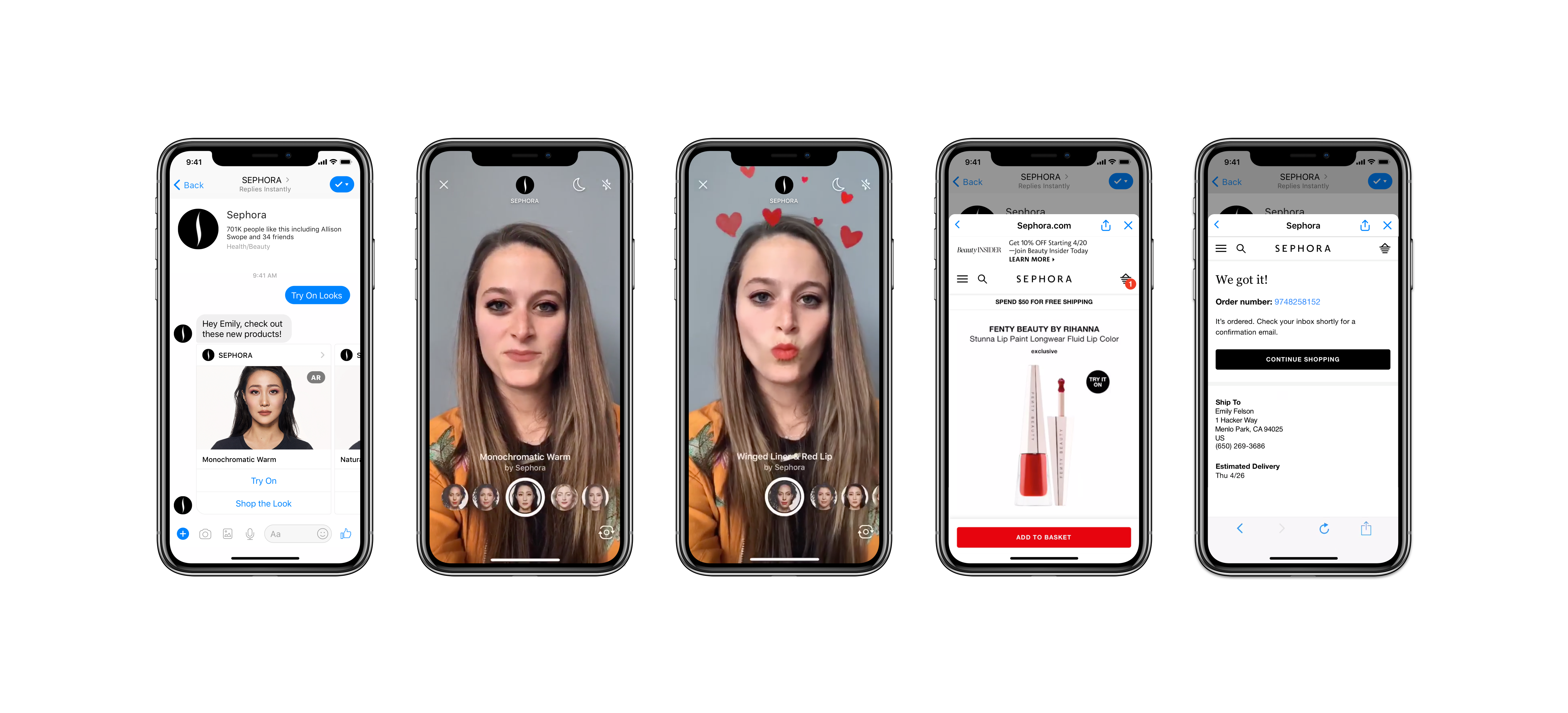 This is a great way for shoppers or people in general to view and try on products without the hassle of having to go in-store, or order the product only to send it back when realising you're unhappy, leading to a huge increase in product sales. You can even see what a new car will look like outside your house!
Facebook is a platform that has, and will continue to change the world for people as well as businesses all over the world. There really isn't much you can't do on Facebook now, and we're excited to see the much-loved platforms features become more creative and advanced.
Are you curious to know how to best use Facebook and its fantastic features to your brand's advantage? Look no further! We have a team of Social Media & Marketing experts on hand to help you expand your skillset – we even offer Facebook Training packages. Talk to us and see how our social media skills can benefit you and your brand.