Now I know what you're thinking… the word 'profiling' conjures up some negative connotations and bad press. Needless to say, this article is not about that kind of profiling but about how profiling your website users can help you build a website to convert.
When you come to start your new website, whether it's for a local shop or a national company targeting a niche business sector – you want to get your website working for your business and delivering results. The trick is marrying what you define as a result with what your clients want from your website.
That's why at the start of each website project we start off by working on detailed personas for a range of customers, clients or website users before we even think about getting into the visual design.
How can we drive your website users towards an action that benefits you both? The answer is by spending time to define your customer personas, creating detailed profiles of each that you can then hypothesise their goals for visiting the website, what makes them tick, potential questions and how best to solve them.
How can we drive your website users towards an action that benefits you both?
Let's take a look at an example of a customer persona for a fictitious company that sells… I don't know, luxury holidays around the globe (we all love a picture of a palm tree over a bright blue sea). One example may look a little like this:
"Karen works full time as an accountant in London, each day she commutes on the train and uses this time for herself browsing on her phone. She is married with two kids under the age of ten and has a combined household income of 150k per annum. Karen and her husband are avid travellers and like to explore new destinations. They go on the odd weekend getaway but generally hold out for one big family holiday per year. Karen is now in the planning phase of their next summer holiday for somewhere in Europe. Karen tends to do the legwork in holiday hunting, however they make decisions together on their final destination, typically in the evenings on their iPad when the kids are in bed.
She's accustomed to using review websites like TripAdvisor to gather insight into destinations and what other travellers think about an area or resort. They like to splash out on this big family holiday, however she appreciates good value.
Although having travelled extensively and picking up knowledge along the way, Karen prefers the advice from a travel agent to confirm her initial research. She also prefers that the travel agent takes care of all the details, making the actual travel as stress free as possible. As she is busy at home and work, she prefers to communicate by email to get a quote."
The first thing we're going to do is define a goal for Karen. Typically we would look at three goals per persona, but for this example we're going to say that Karen wants to research and find a destination for her next family holiday. Other goals may include getting a quote for a holiday or requesting recommendations on where they should go.
From this, we define a user journey and hit the key call to actions, triggers and functionality along the way. This could look a little like this: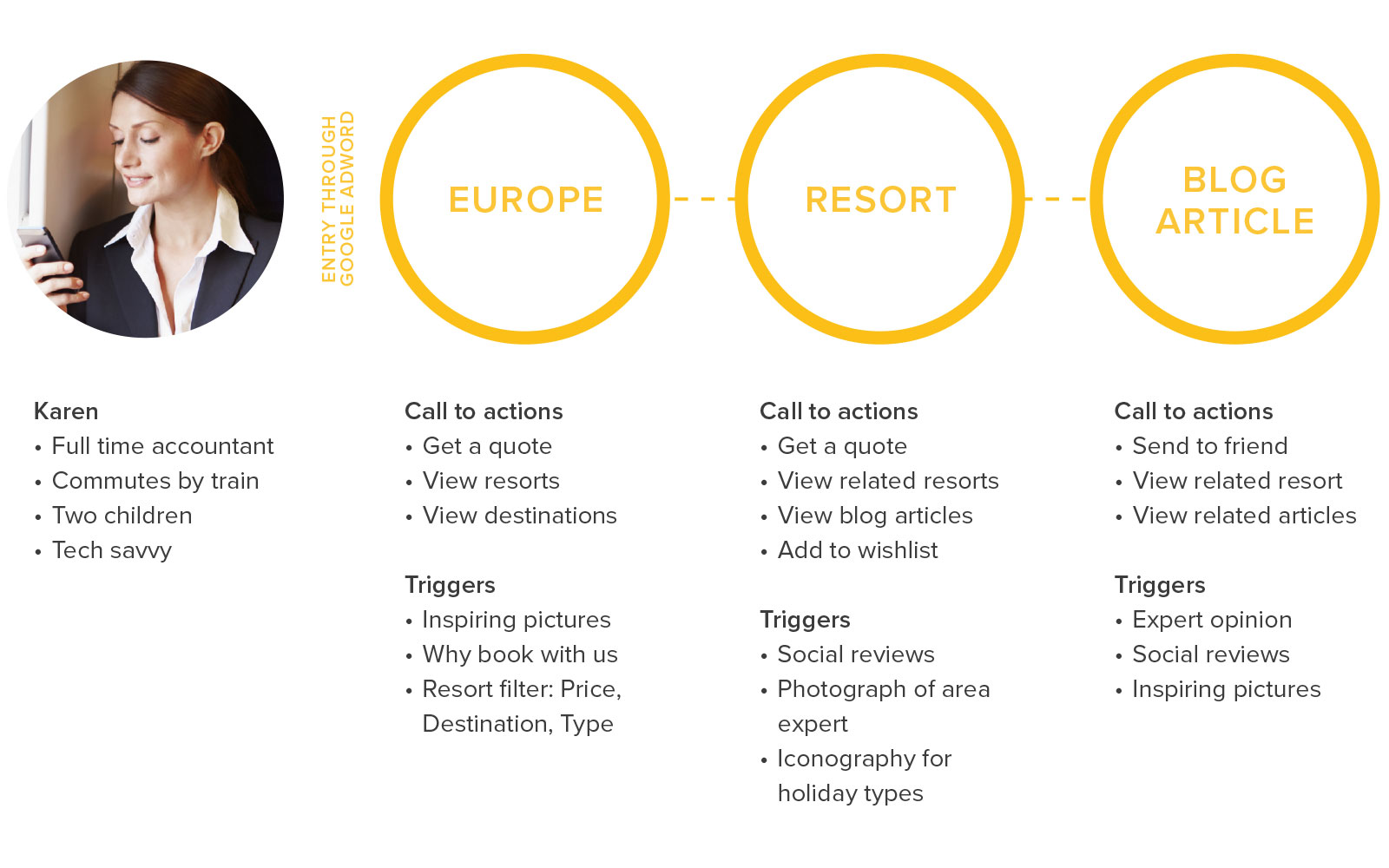 As you can see from the diagram, we have taken the user through a journey based on the predefined goal. This is by no means exhaustive, however it allows us to explore the different call to actions, triggers and functionality that would be useful to the user at each stage.
Having gone through this process on a range of different personas, you have a solid foundation on which to design your website and create a solid content plan that serves your customers. After all, we're not building the website for ourselves but for these very people. It makes sense to start our journey in their shoes, define their goals, problems, questions and what they want or can benefit from with our website.
If you'd like to have a chat about how your existing website can be optimised to convert or a new website that you want to do more than just look pretty, give Chris a shout on 01292 280022 or email here.